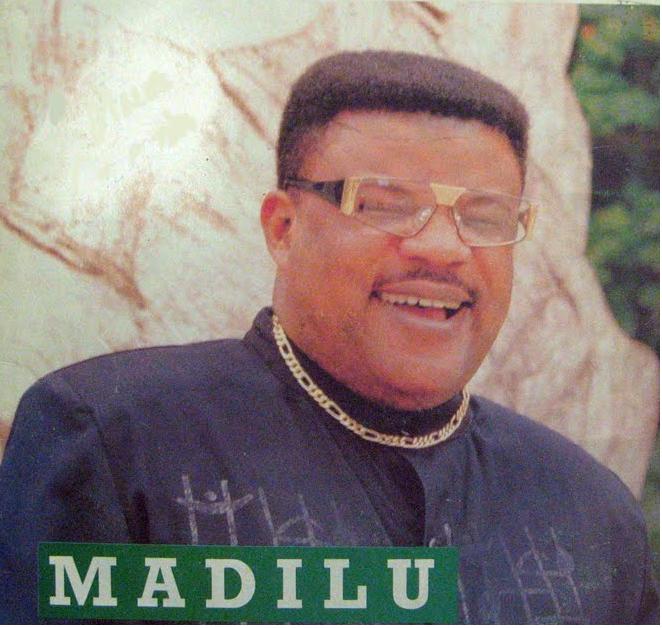 This is something that I did not want to post on but after 10 years of the death of Madilu and with the upcoming 19th anniversary of the death of

Pepe Kalle

, I decided to do this topic.
It is about the so-called close friendship or more "brotherhood" between the late Madilu System and the late Pepe Kalle.
How did these two men get put on the same sentence.
Before Madilu's death, many people did not care about putting the Madilu and the Pepe Kalle on the same column. They were two people with distinctive realities.
But Madilu unexpectedly died in 2007 and then former Pepe Kalle confidant Papy Tex revealed that Pepe Kalle had given Madilu 300 dollars to start his own band.
Then started this Madilu and Pepe Kalle Affair. People started to speak on how Madilu and Pepe Kalle were "best friends" in the world.
Then this year, the Madilu video came in which there was this so-called love affair between Madilu and Pepe Kalle. Madilu claimed that Pepe Kalle was his childhood friend and they were members of the band Bamboula of Papa Noel and Bakuba which Pepe Kalle was the boss. Madilu kept insisting that Pepe Kalle was the best thing in his life. He said what Papy Tex said. Then he added that he was planning a duet album with Pepe Kalle but Pepe died before they could even get started on that.
Over the years, there were claims that Madilu and Pepe Kalle had sung together not only during the Bakuba years but during the late 1980s and early 1990s or even the mid 1990s period.
Actually some members of Empire Bakuba such as Elvis Kunku and Djouna Mumbafu said that Pepe Kalle and Madilu were very close and often visited each other and did acapella together.
Here is the interview where Madilu says these things
Here is my take on this affair
Madilu and Pepe Kalle were great artists and they made great moments for us all. Having said it, I don't think Madilu and Pepe Kalle were best friends let alone "brothers". Were they friends? Sure to some degree.
I have heard rumors and claims that Madilu and Pepe Kalle sang together over the years. Here is my response. Where are the songs and more importantly why has it not come out by now? For example with Les Bakuba songs, I have not heard a song have a note of Madilu System. I have heard Dilu Dilumona, Papy Tex and Pepe Kalle.
This is practically the first time that I have heard that Madilu was a member of Les Bakuba.
Don't forget the current leader Papy Tex has talked several time about this like this interview here, never was the name Madilu System was mentioned. Remember he was a singer not a instrumentalist like a Doris Ebuya, a Elvis Kunku (who resembles Madilu strongly), or those kind of men.
The nail on the coffin was when Madilu said that when Pepe Kalle decided to form Empire Bakuba, he did not feel like that there was a reason to join the band. Wow, what a statement. Madilu decided to stay in Gabon before he decided to form his own band Bakuba Mayopi. In addition, he compared to his "rivalry" to Pepe Kalle compare to JB Mpiana and Werrason. REALLY. Yes, he did that. That shows right there that clearly Madilu did not care for Pepe Kalle much as he would have liked you to believe.
For first of all, JB Mpiana and Werrason had a group together for many years and made music together before they splitted up in 1997. It is not as if JB and Werra hate each other. They reconciled and even did a performance together in 2015. JB and Werra hopefully will do a duet together again.
Returning to the Bakuba subject. Another person claimed kind of the same implication was Madilu's former colleague Yossa. He was a guitarist. He said that he, Madilu, Dilu, Pindu, Papy and Pepe were together for the band Bakuba. He said that he, Madilu and Dilu decided to go to Gabon but Pepe Kalle apparently refused to go to Gabon which he claims to part of the reason why Pepe Kalle decided to separate from them to form Empire Bakuba. Dilu decided to return to Pepe Kalle in Empire Bakuba. Then afterwards, Yossa said that he came with Madilu and Pindu to form Bakuba Mayopi to compete against Empire Bakuba.
Madilu and Pepe Kalle were friends, I don't dispute but they were not close friends let alone brothers at all. Based on Madilu's own words, it was clear that they must have had some sort of conflict. What was the conflict about? I don't know. Whatever it is, Madilu and Pepe Kalle were not close friends.
Plus in 1997, Simaro released a song Trahison which Pepe Kalle sang and I feel like the song was partly about the likes of Madilu System. The emotion tells me that Pepe Kalle was singing about someone notable. The only person that may make Pepe Kalle be more upset was Madilu. Plus the framing of the question was stupid. The journalist Doudou. He wanted to make like Madilu and Pepe Kallle BFFs when he said the the term "Brother Pepe Kalle". REALLY? That is a great insult to those who sang with Pepe Kalle. Obviously he forgot and purposely tried to act like people like Papy Tex were just "ordinary friends".
Papy Tex and Pepe Kalle were brothers if you want to say that. Papy and Pepe knew each other well and they did things together before they met "individuals" like Madilu. Besides, who got Madilu and Pepe Kalle to meet? I don't know nor care much. Papy Tex and Pepe Kalle created Empire Bakuba and Madilu decided that he was "too special" to sing with these two great singers. Frankly Madilu needed Pepe Kalle more than the other way.
Papy Tex and Pepe Kalle made some great duet songs as well as beautiful harmonies. Papy Tex stood by Pepe Kalle's side with good and bad moments. I can see that Papy Tex truly loved Pepe Kalle as a brother. I can see Papy Tex misses his friend so dearly. That is a true friend.
Madilu and Pepe Kalle is another story. It is not the same if anyone thinks that, clearly does not the life of Pepe Kalle.
If Madilu and Pepe Kalle were "close friends" which the notion is laughable, then Madilu would act in a certain way. Since Pepe Kalle gave Madilu money to start his band, here is question one, "Why not give Pepe Kalle a guest spot on his first solo album". I mean Madilu could have created a beautiful duet between him and Pepe Kalle on a song such as Biya. Biya would have been the ideal duet between them especially you put Madilu's high raspy baritone with Pepe Kalle's smooth baritone. It would be a nice melody in my view.
Finally, notice on their would have been duo album, it was not Madilu's idea to it. It was a producer name JPS who wanted it. That is the reason why Madilu went to visit Pepe Kalle. Had JPS not asked, I doubt Madilu would have thought of ever doing this. Remember Madilu's tone tells me that he had little interest and did it to make sure JPS remains happy. Pepe Kalle wanted to record Cocktail first before he would come to do it. Had Pepe Kalle lived longer, I am sure this album would have been released in 200o because he was already making a duo albm with his closer friend Nyboma called "Tokosala Tout le Temps". BTW before Madilu was doing a album when he died which would have been "Lokondo". Had Madilu lived longer, I am sure this album would have been out by either late 2008 or 2009.
Having said these things, do I believe Madilu and Pepe Kalle had sung together? Actually it is a definite Yes.
First of all, in that Madilu interview that you can watch, Madilu indicated that he and Pepe would sing together in the "Prince Royal" whether Madilu was doing a song or just a acappella. That indicates that they had sung a song or more together but not as a duet but they got others to sing in them.
Second, I know Madilu musical complication is far from complete. We still are discovering the Madilu songs that were known but never had a great success as Madilu's later solo albums. Case in point that we found out that Madilu had done two albums in 1990s which one of them included Elba Kuluma and Pamelo Mounka. I don't know how Madilu and Pamelo Mounka got together. My guess is Vincent Gomez or Elba himself got them together. Also, you have the song Diallo which Madilu sang with Empire Bakuba, which had Kichar Kilesa and Dilu Dilumona.
This lead to the third and final reason. It is possible that Madilu and Pepe Kalle sang together in a Kichar Kilesa project that never got a proper promotion or another unknown individual project or a maybe a Maika Munan project that also had poor promotion. Because I kept hearing this claim that Madilu and Pepe Kalle sang together as individuals. So who are the characters that may have these men together? It could be either Maika Munan, or Shaba Kahamba or Kichar Kilesa or a Aurlus Mabele associate. The likely person who did this was Kichar Kilesa. Remember he was never a actual Empire Bakuba member. He was like Mayaula Mayoni rather as a "songwriter" that help Empire Bakuba than be a regular member. So it is him that may be the one who got Madilu and Pepe Kalle to be together with some others in a given project. We will find for years to come if a Madilu and Pepe Kalle scenario comes to our ears.
If Madilu and Pepe Kalle duo album had happened, would have been good? I think so. It would have been classic in some way. I think Madilu's raspy baritone and Pepe Kalle's husky baritone would have been a perfect harmony. I could think of songs like Biya and Monano. These songs would have been perfect to make their harmonies together. Plus they are the kind that would have complimented together.
It is interesting that Madilu and Pepe Kalle knew each other. We will probably find more about these men that they were together in Bakuba (if true) and Bamboula of Papa Noel.