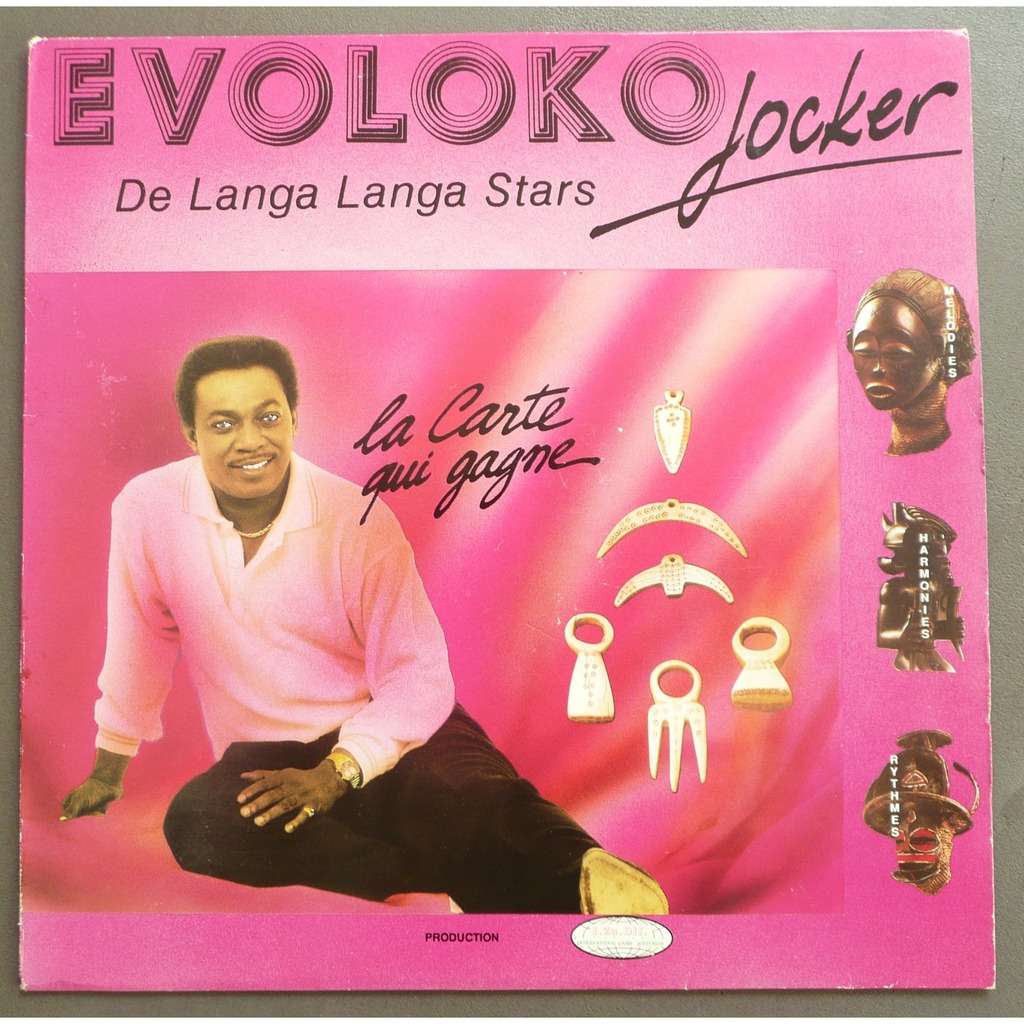 As many of you are aware, I don't care much about Evoloko's music but since my parents love his music too death (I don't why, but that is me), I will do a post about Evoloko on something that I actually like. I mean LIKE. Not TOLERATE. I can tolerate (or somewhat tolerate) most of Evoloko's music but man it is not special.
But this LP is an exception. This is not quite a rumba album but a popish album and I love it. I love it so much. This where I found some goodness of Evoloko. In my opinion, this is best work of Evoloko's music career. But since I don't care for Evoloko, I don't listen to this classic lp as much as I should or would like to. I apologize a lot. I'll do a little expression of Evoloko in general in French concerning this work and others.
<<Je fais des excuses pour mon indifférence d'Evoloko. Mais il n'est pas important pour moi. Parce que les gens me faisaient un grand étoile qu'il n'était pas à tout. Vraiment, les meilleures chansons d'Evoloko son les chansons que ses fans se fichent sur à tout. Je trouve seul deux lps ou on trouve le mieux d'Evoloko lui-même>>
I am making a point that Evoloko was so overrated and made into a bigger than he was. No wonder when in my view, Evoloko found some classics, he was largely forgotten. It is unfortunate but it make sense since he was over-promoted during his earlier days especially when he had the star group "Langa Langa Stars".
Enough of my rant, it is largely known. Let me focus on the songs that I love dearly. Let me start on the Santa-Dou or Ben Nsay as original with the ladies singing. I felt that it was so perfect and it fit the skills of the ladies. Also Evoloko sounded so lovely as in acting like a pop star. I actually had goosebumps since this does come from Evoloko.
Evoloko had a amazing time when he danced around the song Samedi Soir which means Saturday Night. It is perfect because a lot of parties tend to go on during the Saturday night. Furthermore, those trumpets and saxophonists are perfect and they go on note with Evoloko's vocals.
Then of course Evoloko's greatest song of his musical career. Not his Zaiko songs let alone earlier Langa Langa Stars song in my view. MBONGUE. This song is a great classic and you can see how genius Evoloko was. Evoloko for once sounded like a singer and he actually managed to impressive with his power. With those ladies, you got a classic to help from Souzy Kasseya. Actually you can dance and have a amazing behind this classic song.
You got the classic song Tour a tour which is basically you are looking for people to take their turn around life. Evoloko gave me goosebumps again. I enjoyed his voice around this song. It was something so important. Notice the natural singing from Evoloko.
Now think about Samedi Soir. Now this is something that I could never get enough of. Evoloko sang so well and he knew when to sing and how to sing with his female backup singers. It is a good demonstration of how you can get someone overrated and make them a real good song that you can enjoy.
But the song that I love the most from this classic LP is Litina Desepoir. My lord, I cannot get enough of this song. This song is the one that has dope beats and great keyboards. I love it so much. More importantly, Evoloko's voice was so good and so on track of a older R&B singer.
I love this LP from Evoloko so much that I cannot stop singing when I am mood which is very rare. But when I am in the mood, I really do enjoy this music a lot.
Now if Evoloko had more songs like this, I would definitely a well suited fan for him. This is Evoloko's greatest music work ever in his whole career. He did not any make better music before this classic Lp and he has not made any better music since this classic Lp.
If you want me to recommend to get a Evoloko LP, I say this LP is the best one.