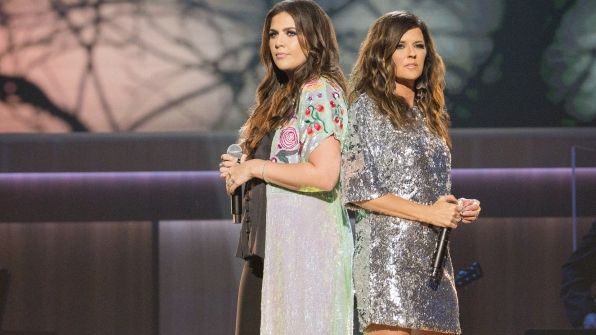 Hello everyone, I got a nice duet here based on these photos and the video that I saw these women perform together. It was sexy music to my ears. Their voices will be like pale and wine.
I am speaking about Hillary Scott and Karen Fairchild. Hillary is the lead singer of Lady Antebellum and Karen is the lead singer of Little Big Town.
I was so surprised that I never mentioned these women together. Their voices would actually mix very well in my view.
Think of it, Hillary Scott is a woman with a more normal female voice which is jolly and feminine while Karen Fairchild is a woman with a deep silky alto range who also has a deep soulful sound in her voice.
Look at this performance. It shook my body big time. It was one of the sexiest performances in my view without trying. Their chemistry was so delicious and precious for me. I can't believe how much they connected musically, spiritually and emotionally. It is like they were childhood friends.
Imagine now if we get a opportunity for a duet song or more better, a duo album among these two women. I would buy it in a heart beat.
This is why it should be the reality
1) Hilary and Karen like each other
2) They love Reba McEntire
3) They are incredible female lead singers
4) Both are the kinds of deuxième chanteuse
5) They have great chemsitry overall
These women would make people love and appreciate Country Music and especially female Country singers. I think it would benefit the Country music scene if these two women come together and make a lovely or more preferably duet album together.